Travel to the time when the Americas were discovered
Baiona celebrates the arrival of the caravel La Pinta bringing information about the New World
The people of Baiona were the first in Europe to hear about the discovery of America, and they commemorate it in grand style, over 500 years later, with a mass celebration that has been declared a Festival of International Tourist Interest. On the first weekend of March, knights, people on stilts, artisans from all guilds, hand-reading gypsies, innkeepers and thousands of characters in period dressing take Baiona over 500 years back in time.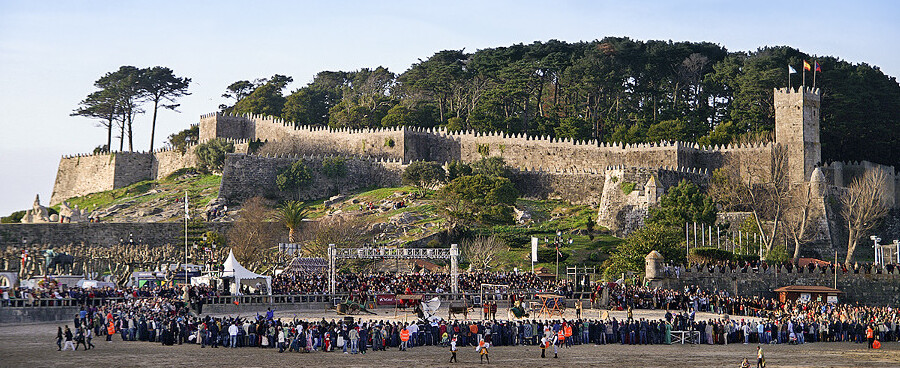 The entire town immerses itself in the Middle Ages at the events that take place during A Arribada, and large numbers of people flood in from all over Galicia, from different regions of Spain and Portugal and from other countries as well. The Royal Medieval Market features now over 400 stands, and it has spread beyond the old town. Hotel occupation reaches 100 % during the weekend.
Medieval jousts
The festivities kick off with twelve gunshots fired from the Fortress of Monterreal, and with the jousts, where the knights fight for the love of a young noble lady. There is a training field at the knights' disposal and medieval Olympics are organised. Falconry exhibitions, fencing duels and archery competitions are also among the most attractive shows, and the culminating point is the theatrical performance representing the arrival of the Pinta caravel at A Ribeira beach in the town of Baiona.
At the stands of the Royal Market, you can buy handcrafted goods such as ceramics, leather, costume jewellery and toys; or taste the local cuisine, including products such as octopus, churrasco (barbecued meat), empanada (a typical Galician savoury pie, with different fillings), sweets, wines or other alcoholic drinks. Furthermore, the park known as the alameda of the apprentices is home to several workshops, where you can learn ten different crafts: pottery, period tapestries, coin minting, medieval writing, leather, confectionery, old embroidery, precious metals, wax sealing for letters and engraving. Baiona's twin towns are also present at the fair, with a spot featuring Palos de la Frontera, Santa Fe, Pornic and Vila do Bispo.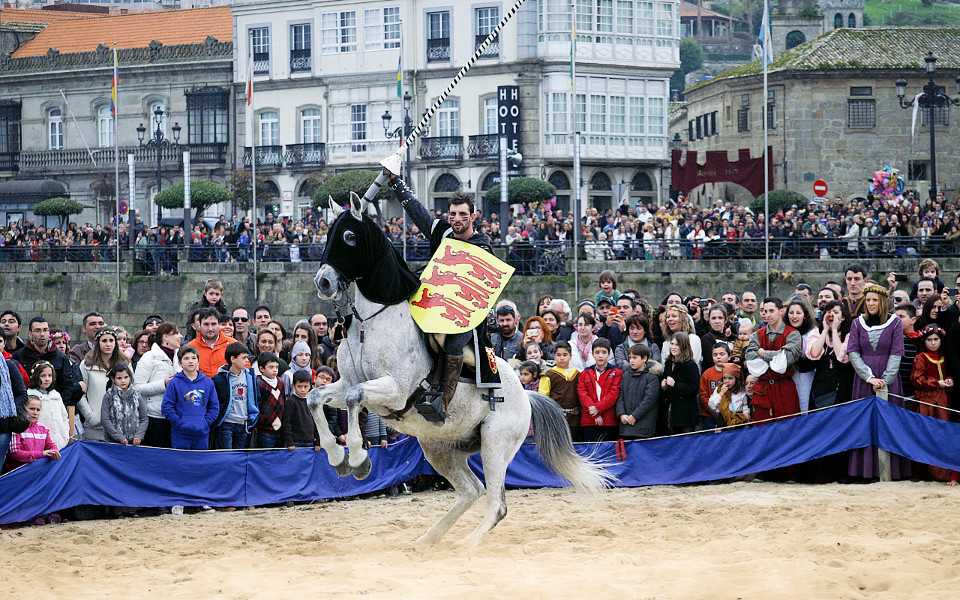 In the late 20th century, a series of solemn acts were held in Baiona to commemorate the 500th Anniversary of the Discovery, and in 1993 the old town was declared a Site of Historic-Artistic Interest. A Arribada was given a major boost and it kept growing until, in 2015, it was declared a Festival of International Tourist Interest. Baiona travels back to the time when its residents first heard of the New World. Its residents learnt the news before anyone else on the Old Continent did.